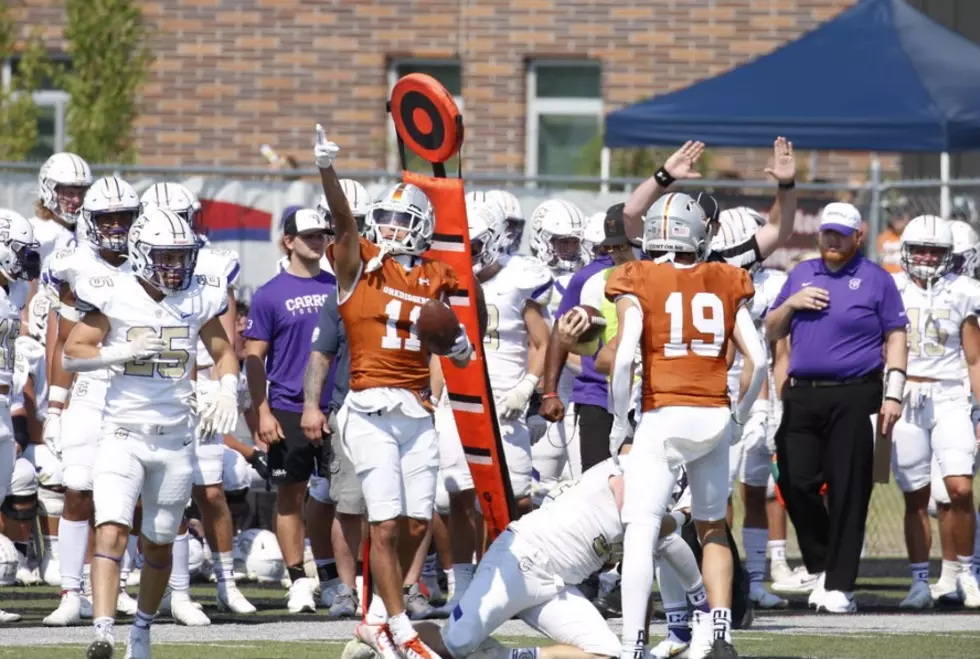 A BIG day for Oredigger athletics
photo JonWick/5518Design
Saturday is a busy day for the Orediggers.
At 1pm the Oredigger football team will welcome the Raiders of Southern Oregon to town for their lone matchup this year. Also Saturday, the Oredigger volleyball team will be back at home, and into Frontier Conference play at 6pm against the Argos of the University of Great Falls.
The Oredigger Volleyball team is coming off an extremely successful trip to Wisconsin where they played in the Viterbo Invitational and went 3-0, including a sweep of #23 Columbia College of Missouri. Including those 3 wins, Montana Tech has won their last 10 matches dating back to Sept 16th.  The Diggs took down the Argos in their first conference matchup 3-1. Olivia Muir led the attack with 13 kills, Taylor Henley finished with 12, and Mckenna Kaelber was outstanding with 43 assists. Montana Tech enters 20-6 overall, and a perfect 5-0 in conference. Providence comes is 7-16 overall and 0-5 in conference games.
The Oredigger football team will also jump back into conference play tomorrow after a bye week, as the Raiders will be in town. This will be the 17th meeting between the teams with the Diggs holding a slim margin in the W-L, winning 9 of the 16 games thus far. Tech won their last meeting a year ago, in Ashland 34-14 and have won the last 4 meetings.
Offensive numbers are scarily similar, SOU is averaging 402 yards a game, Tech is at 404. Tech is getting a few more yards on the ground, averaging 164 a game, Southern at 142. Those differences are made up in passing where the Raiders average 261 yards a game through the air, Tech is at 240. The big discrepancy in the number game is Turnovers, Montana Tech comes in +9, (has taken the ball away 9 more times than they have given it away), Southern is -2. Remember Tech has only one game this year where they have any turnovers, that game coming against Rocky, when they had 5.
Southern Oregon started the season slow, going 1-3 through their first 4. Then the fire started to burn a bit hotter, with a big rivalry win over Eastern, and a monster win over UM Western before the break. The Raider are led at QB by Blake Asciutto. Ben is hitting 55% of his passes on the year, with 14 TD's opposed to only 3 Int's, he has amassed nearly 1500 yards passing thus far averaging 246 yards a game. According to the numbers, he is not a 'run-threat', with only 12 carries on the year for negative yards.
Their run game is not dominated by one guy, but rather by committee. Gunner Yates a Freshman is their leading rusher with 288 yards on 57 carries, Christian Quirarte has 53 carries good for 253 yards. Combined they account for 6 TD's on the ground.
Southern's receiver core is ALWAYS a group that you will lose sleep over trying to defend. They are led by Christian Graney. He has 34 receptions this year, for 544 yards and 4 Td's. Bryce Goggin has 18 catches and Adrik Lamar sits with 13 currently. The thing you must look at for SOU is the column labeled LONG. They have 2 receivers with 'Long's" over 70, 2 over 40, and 4 over 30. They are scary fast.
I can only imagine the last two weeks of practice have been intense for Tech. Going into the Bye week Tech lost a heart breaker to the College of Idaho in Caldwell. The Diggs find themselves in Playoff mode now. If they want to get into the NAIA playoffs they have to win out. Blake Thelen started at QB again last game for the Diggs, and he has been fantastic. He's hitting 56% of his passes, throwing 7 TD's thus far with 0 Interceptions.
Will he start tomorrow? I don't know.
Could we see Jet Campbell again? Possibly!
With the injury to Jet, Blake has been fantastic. I don't know the timetable for Jet's return, and I wouldn't be shocked to see both tomorrow IF Jet is healthy.
Counts and Winterburn will be the running backs again this week. Blake taking the motherload of snaps (102- with 45 for Kaleb) Counts comes in averaging 85 yards a game, and has 5 rushing TD's (and 3 receiving) As a team, Tech's running game is averaging 164 a game.
Trevor Hoffman, is the guy with the bullseye on his back for the Diggs. 36 catches for 557 yards thus far, averaging 93 yards a game. Kyle Torgerson has 23 catches for 339 yards, Wyatt Alexander 12 catches, and tight end Logan Kennedy sits with 10 catches for the Diggs.
Honestly, both teams' receiver depth is a bit crazy.

The Oredigger secondary is going to be tested, and honestly this will be a fun battle to watch. This is a group I love watching play, they are confident, tough and smart as hell. They will be ready. Closer to the line of scrimmage, watch out for James-Newby, Ben Windauer, AND Ezra Gulewich. The Diggs need them to bring the heat.
This matchup always feels like one that has several BIG plays, every time. The Diggs sit at 4-2, currently 3rd in conference, Southern sits at 3-3 and in 5th place entering the matchup. Both teams are in 'must-win mode'...Which of course is how it feels every weekend in the Frontier.
It's going to be a big game, and a big day for the Orediggers, so hopefully we see you at Alumni, and or the HPER.
More From 1370/94.7 KXTL AM