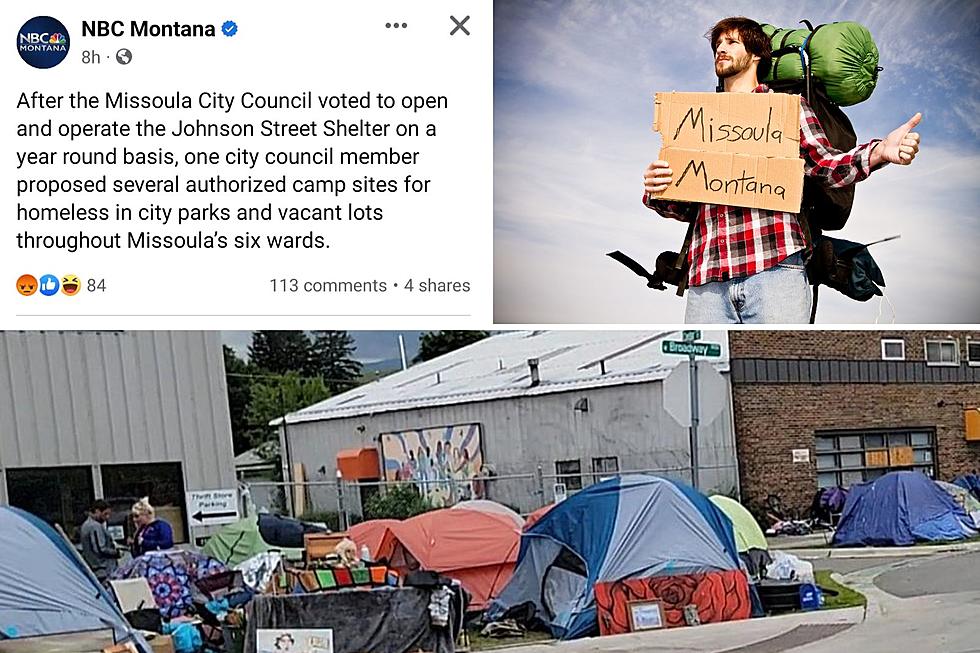 Insane Response to Transient Crisis in Missoula
Credit NBC Montana Facebook screenshot/ Canva/ Aaron Flint
NBC Montana shared this crazy update about the transient crisis in Missoula, Montana...and the comments are GOLD.
Here's what NBC Montana shared via Facebook:
After the Missoula City Council voted to open and operate the Johnson Street Shelter on a year round basis, one city council member proposed several authorized camp sites for homeless in city parks and vacant lots throughout Missoula's six wards.
And here are just some of the comments:
Kris: How about put them in the parks closest to city council members homes and businesses? These parks are paid for by property owners, businesses and the working class who have taxes taken from their paychecks to run the budget.
Craig: Sounds like city council members' front yards are a great place for them.
David: Any person that thinks this is a good idea should leave their address on a list that's distributed to the bums. This way the bums will know where they can stay.
Justin: Liberalism at its finest. Keep it classy Missoula.
Christine: I am all for helping those who want the help. Giving up this land will only stifle them to getting real help. If they are not willing to get a hand up, move them on.
Kathy: Let's just put them in the city council members backyards!
Kelley: Little Portland here we come
Jason: If you said that my kids were not safe walking across town 10 years ago, I would have laughed in your face. Currently, no one's kids are safe walking across town. The city council and the HRDC are complicit in this. These folks are responsible for the problem, these folks need to be held responsible.
Robyn: Taxpayers are paying for those parks!
Tom: Sounds like now we are proposing spreading the camps all over Missoula. Probably not a reasonable solution to an ever increasing problem!
Jerid: Missoula the Portland of Montana.
Me: And how many Missoulians will still vote for Democrats?
By the way- here's a story I wrote back in June after driving down Broadway in Missoula: EVEN I WAS SHOCKED AT WHAT I SAW IN MISSOULA
What a train wreck. Check out ALL of the comments below:
LOOK: Dana Carvey, Missoula-Born Master of Disguise
See the comedian, who we love to claim as one of our own, through the years.